Byway Membership Benefits
Joint marketing opportunities with othe communities located along the Byway.
Involvement in designated tourism grants issued by the state only for the Scenic Byways.
Participate in association's activities and events featured along the Byway.
Representation in tourism decisions made at the State Level.
Joint website featuring community events along the Byway. Special listing on state website for byways.
Networking with other members & businesses.
Updates on activities happening along Byway route.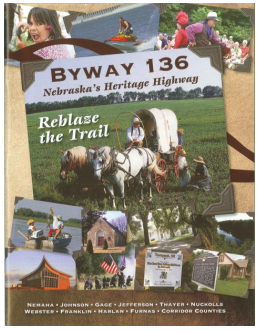 Become a member
We encourage you to join our organization by offering four different levels called Trailblazers (Reblaze the Trail).  
Pioneer Trailblazer  $50
Dream Weaver Trailblazer  $75
Pathfinder Trailblazer $100
and Destination Trailblazer $150
Payments can be mailed along with the application found below.
Increased membership will offer the Byway opportunities to assist member communities with their various projects.
Trailblazers
Members of the Heritage Highway Association
Nemaha County,
Gage County,
Furnas County,
Jefferson County,
Nuckolls County,
Arapahoe Chamber of Commerce,
Furnas-Harlan Partnership,
American Dream Real Estate,
John Lauber,
Nemaha County Development Alliance,
Gage County Historical Society,
Inn Resort,
City of Franklin,
Homestead National Monument-Beatrice,
Main Street-Beatrice,
Franklin County Museum,
Merchants of Brownville,
Whiskey Run Creek Winery,
Rightway Grocery,
L & M Petroleum, Inc.,
Gandy House Bed & Breakfast,
First National Bank of Johnson/Auburn,
City of Nelson,
Nebraska Arbor Day Foundation,
Friends of the Old West Trails Center,
Mort's Lodge, Inc.,
Mary's Cafe,
Oxford Chamber of Commerce,
Village of Oxford,
Pawnee County Promotional Network,
Willa Cather Foundation,
Peoples-Webster County Bank,
Nemaha NRD,
Red Cloud Chamber of Commerce,
Webster County Historical Museum,
Deer Creek Sodbusters,
Wilber Chamber of Commerce,
Great Plains Welsh Heritage Project,
Riverside Motel,
Peru State College,
Nemaha's Only Stop,
Village of Edison,
Beth Kernes Krause,
Mary Kruger,
Deshler Chamber of Commerce,
Thayer County,
Nemaha Valley Museum,
Webster County,
Johnson County,
Fairbury Community Redevelopment Authority,
Husker Promotions, Alma Chamber of Commerce, Capri Motel, City of Fairbury City Redevelopment Authority, Pawnee City Historical Society and Museum, Red Cloud Community Foundation, Starke Round Barn, Sweetwater Glassworks, Pawnee County Visitors Committee