Byway Membership Benefits
Joint marketing opportunities with othe communities located along the Byway.
Involvement in designated tourism grants issued by the state only for the Scenic Byways.
Participate in association's activities and events featured along the Byway.
Representation in tourism decisions made at the State Level.
Joint website featuring community events along the Byway. Special listing on state website for byways.
Networking with other members & businesses.
Updates on activities happening along Byway route.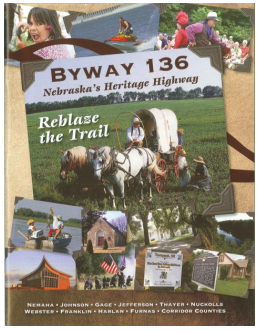 Become a member
We encourage you to join our organization by offering four different levels called Trailblazers (Reblaze the Trail).
Pioneer Trailblazer  $50
Dream Weaver Trailblazer  $75
Pathfinder Trailblazer $100
and Destination Trailblazer $150
Payments can be completed online with the application form scanned and emailed to judyjeancoe@gmail.com. Or payments can be mailed along with the application found below.
Increased membership will offer the Byway opportunities to assist member communities with their various projects.
Trailblazers
Members of the Heritage Highway Association
Write Facts
Sandra Foote - Handwriting Specialist
Sandra Foote is a handwriting expert and examiner located in Superior, Nebraska. She provides handwriting analysis services to attorneys and businesses in the midwest, including Nebraska, Kansas, Wyoming, Colorado, South Dakota, Minnesota, Iowa and Oklahoma. Since 1991, she has been actively speaking about and teaching handwriting analysis.
Website: www.writefacts.com
Phone: 402-879-4619
Email: Sandra@writefacts.com
Address: 356 E 3rd Street – Suite #2, P.O. Box 97 Superior, NE 68978
Alma Chamber of Commerce
Alma NE
Harlan County is a great place to live and visit with lots to offer.  We are next to a lake offering numerous hiking, biking, horse
and ATV trails. Boating, hunting, fishing, canoeing, tubing, golfing, camping and swimming are also on our list.  We are proud of
our businesses and shopping.
Website: almanechamber.com
Phone: 308-928-2992
Email: almanechamberofcommerce@gmail.com
Address: P.O. Box 52 Alma, NE 68920
Webster County Historical Museum
Red Cloud, NE
OPEN: April 1-October 30, 1:00-5:00 p.m. every day, except Mondays and Easter, Mother's Day, Father's Day & July 4 th .
Housed in a beautiful mansion and two other buildings, you will find Webster County heritage in displays and exhibits. A
Genealogy department is also available.
Phone: 402-746-2444
Email:  wchmdirector@gpcom.net
Address: 721 w. 4 th  Avenue, PO Box 464 Red Cloud, NE 68970
Deer Creek Sodbusters
Sterling, NE
Our organization is dedicated to the Preservation of the History of Southeast Nebraska. Our Annual Antique Machinery
Show is held the Second Sunday in August – 4 ½ miles south of Sterling.
Phone: 402-239-2307
Email: sodbuster@diodecom.net
Address: 72973 610 Avenue Sterling, NE 68443
Homestead National Monument
Beatrice, NE
The National Park Service site commemorates the Homestead Act of 1862. Homestead National Monument of America is
open daily, except for Thanksgiving, December 25 and January 1 – and is FREE to visit. World-class facilities, family
interactive museums, historic structures, hiking trails, and picnic areas are available.
Phone: 402-223-3514
Email: brandy_wheeler-rhodes@nps.gov
Address: 8523 W State Hwy 4 Beatrice, NE 68310
Pawnee City Historical Society and Museum
Pawnee City
The museum complex has over twenty buildings, including a genealogy resource center, six country schoolhouses, a log
cabin, the US Senator Wherry Library, the Whitney barn, and the home of Nebraska's first governor. Artifacts are on
display from all of Pawnee County.
Phone: 402-852-3131
Email: my.blue.heaven@windstream.net
Address: 529 P Street Pawnee City, NE 68420
Pawnee County Promotional Network
Pawnee, NE
PCPN has been working to improve Pawnee County by promoting tourism, economic development, historic preservation,
cultural events, and educational projects for over 25 years. From grant writing and coordinating multi-county promotions
to supporting the local communities, special projects, and nonprofit organizations, PCPN strives to help our neighbors
help themselves.
Phone: 402-852-2444
Address: 1041 5th Street Pawnee City, NE 68420
Gandy House Bed & Breakfast
Humboldt, NE
Duaine and Sandy Stalder invite you one block north of Humboldt's Historic City Square to their delightful two-story Arts
and Crafts house built in the 1890s. Relax with a large sunroom, front porch, or by the native stone wood fireplace.
Antique lighting fixtures and dark woodwork featured throughout the house with Wifi.
Phone: 402-862-3278
Email: gandyhouse@neb.rr.com
Address: 715 5th Street Humboldt NE 68376
Great Plains Welsh Heritage Center
Wymore NE
Phone: 402-432-3656
Email: gcolgrove@neb.rr.com
Address: 307 S. 7 th Street – P.O. Box 253 Wymore, Ne 68466
Arbor Manor Steakhouse & Motel
Auburn NE
Phone: 403-274-3663
Email: arbor_manor@yahoo.com
Address: 1617 Central Avenue Auburn, NE 68305
Filley Bar & Grill
Filley NE
Phone: 402-662-3006
Email: filleybarandgrill@gmail.com
Address: 200 Livingston Street Filley, NE 68357
Whiskey Run Creek Winery
Brownville NE
Phone: 402-825-4601
Email: whiskeyrun@windstream.net
Address: 702 Main – P. O. Box 97 Brownville, NE 68321
Gage County Historical Society
Beatrice, NE
The National Willa Cather Center
Red Cloud, NE
Rightway Grocery
Franklin, NE
Brownville Historical Society
Brownville, NE
Peru State College
Peru, NE